The Rare Porsche Pair - 356A Convertible D
Here at the shop we say; "They show up in pairs". For one reason or another, when an oddball model rolls in we will often see a very similar example rolling in right behind it. Last year, we had a pair of Colorado Orange BMW 2002s show up on the same day! This week we have another four-cylinder pair with just a bit more panache. Join us as we cover the Rare Porsche Pair!
Our Porsche 356A Convertible D is quickly coming together as we work through the final few aspects of the car. Over the past few months, we've been working through wiring, interior, engine reinstallation, and the color change. Now the engine is running correctly and we've been addressing some of the more meticulous details. Check out the engine running down below!
In 1955, Porsche introduced the Speedster thanks to some arm-twisting from American importer Max Hoffman. He believed an open-top model could sell well in the United States. In typical Porsche 50s fashion, the Speedster was quickly phased out for a more luxurious model. The 356 Convertible D was a one-year replacement for these early Speedster models, offering a taller windshield and roll-up windows. By 1960, the updated 356B would be introduced, and thus the production run for the 356A Convertible D would be short-lived with only 1,331 examples produced worldwide between 1958 and 1959.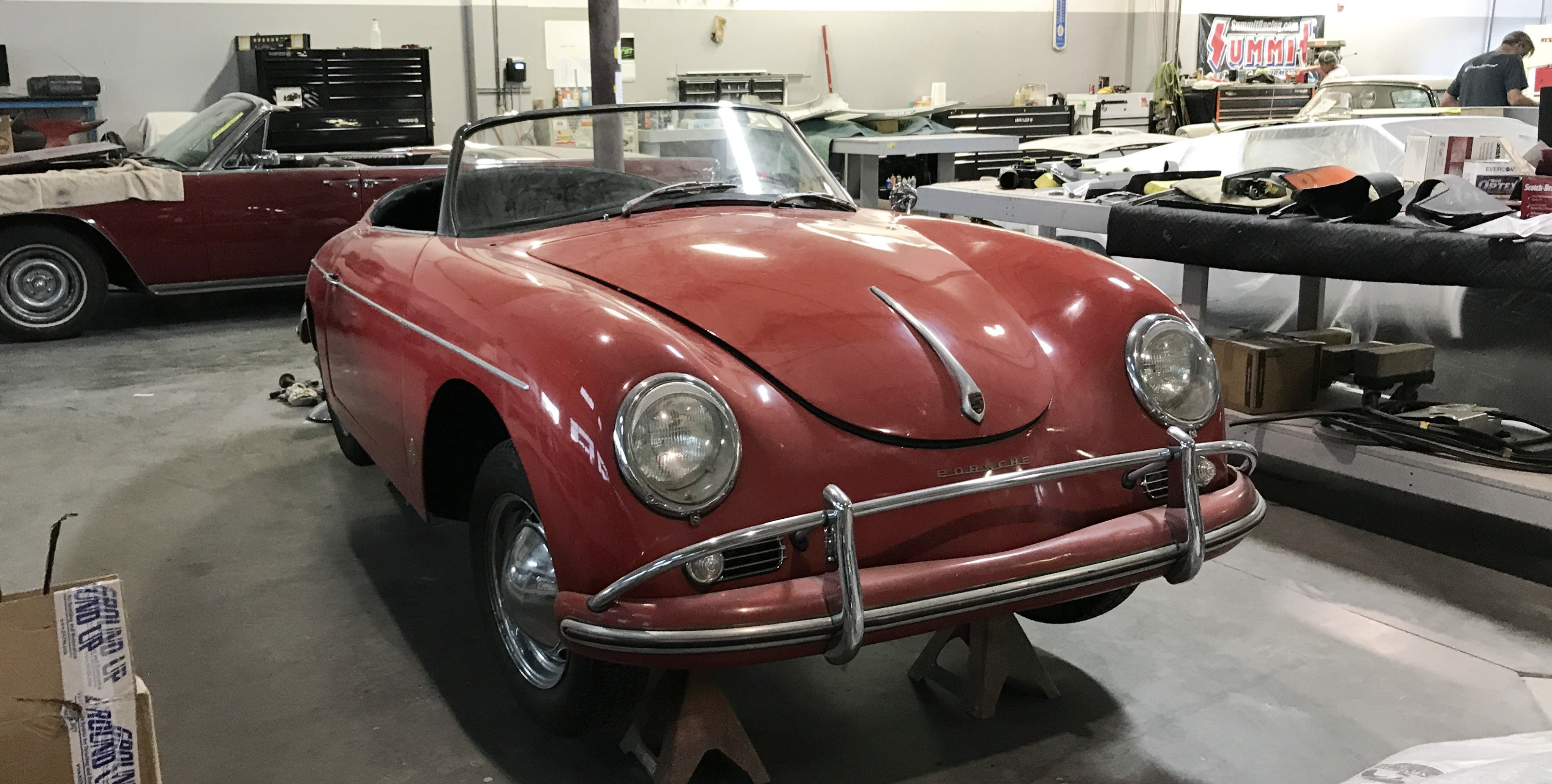 With the history out of the way, we can jump back into our ivory over red example. This extensive color change restoration is quickly coming down to the wire, but we knew the windshield would require a particular specialty. Above you can see when the car fist came in, below you'll see the car as it sits currently.When the car arrived, the windshield frame showed plenty of twists and bends. As our metal master carefully worked to reinstall the windshield frame, we discovered that some broken glass was putting unexpected pressure on the bar and had forced it out of the original factory specs. Our team could search and hunt online for weeks or even months to find good reference photos but who is to say what's "factory correct" when we're talking about one of 1,300 units? That's where this pairing comes in.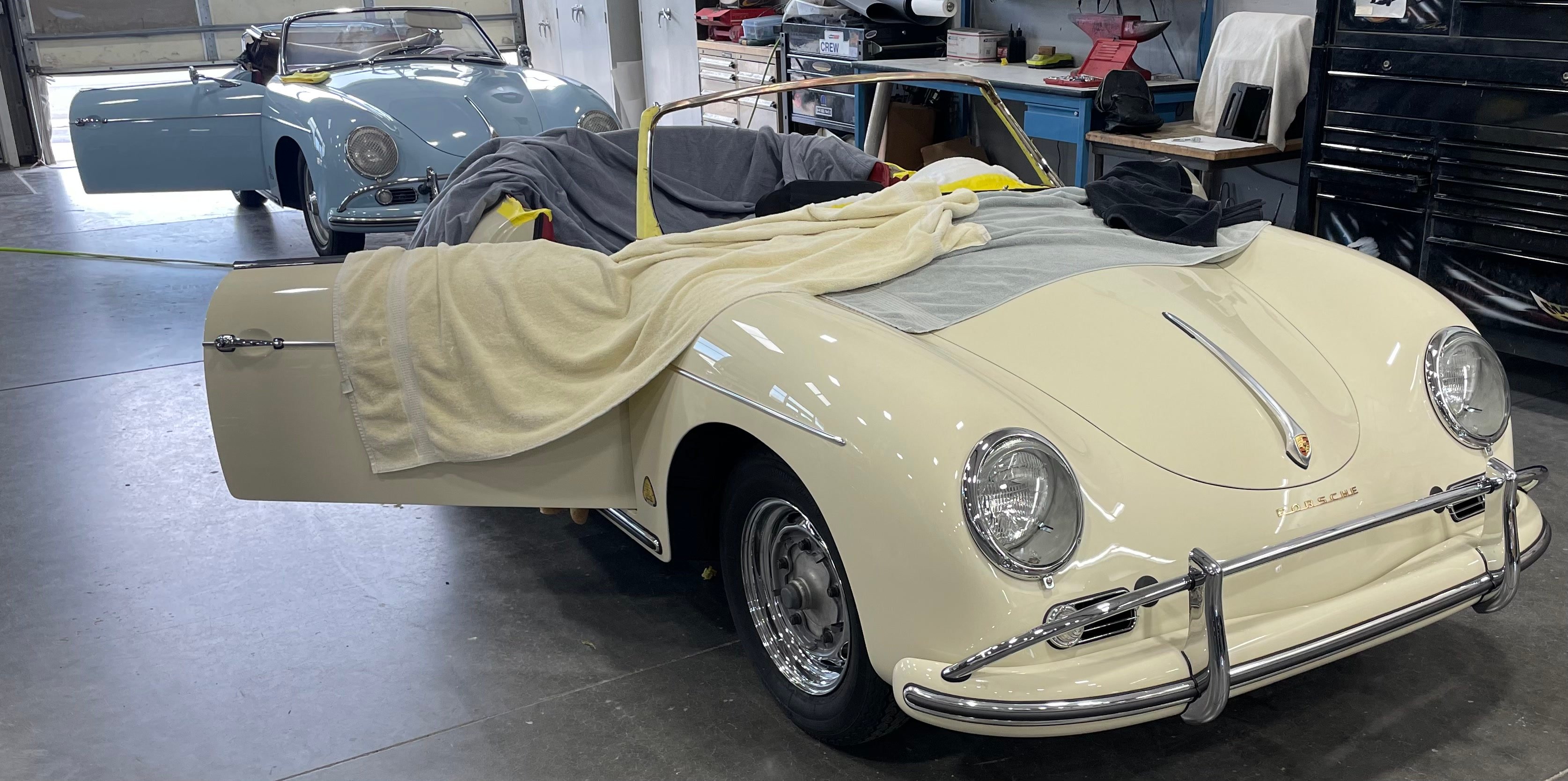 The 356A Convertible D Porsche in Meissen Blue is owned by one of our other loyal clients and they were more than happy to share their car as a reference point. This Meissen Blue example is highly original, only showing some minor paintwork throughout its life. That makes it a perfect reference point for our car. While the Blue car was in, we grabbed all sorts of reference photos, measurements, and ideas about that original-style glass in the windshield. The other 356A Convertible D has given us plenty to address as this Ivory over Red classic continues to come back together.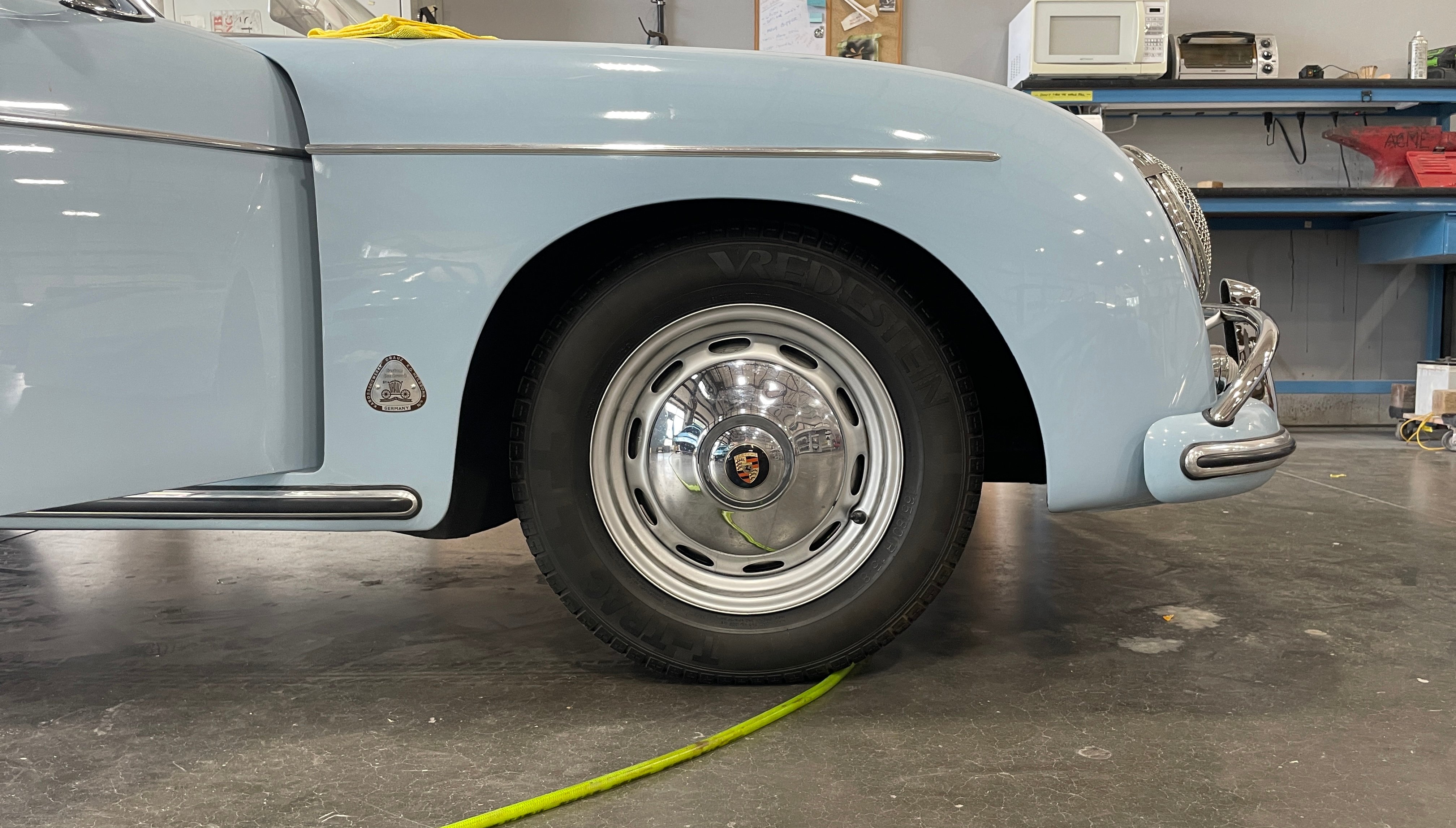 That's going to do it for us today here in the shop and showroom, as always if you have a classic needing a bit of attention, restoration, or documentation, give the shop a call at 303-761-1245. You can always reach us via email at info@farlandcars.com. Join us next time as we cover two grey Mercedes Benz SL models hanging around the showroom.
Note: The Polo Red 356 in the photo below is a Speedster model, so you can see some of the differences in windshield height.