The Golden Touch - Pontiac GTO
While we've been getting schooled on paint and keeping an eye on the friendly Fiat, one of our customers was happy to take their Farland Classic Restoration out to a high-altitude car show. Join us as we highlight the history of the gold flake'd Pontiac GTO.

Not every car that moves through the shop gets the full-metal restoration treatment, like our Ferrari Daytona. Sometimes a car comes to us with a personal history. This car had been a dream for the owner since he had been in high school. In later years he would go on to work as a very successful Old West stunt gunfighter. The passion for Pontiac's GTO stuck with him throughout his adventures in the old west. A few years ago, the bug finally got the better of this cowboy as he ended up finding a very clean 1966 Pontiac GTO down in Arizona.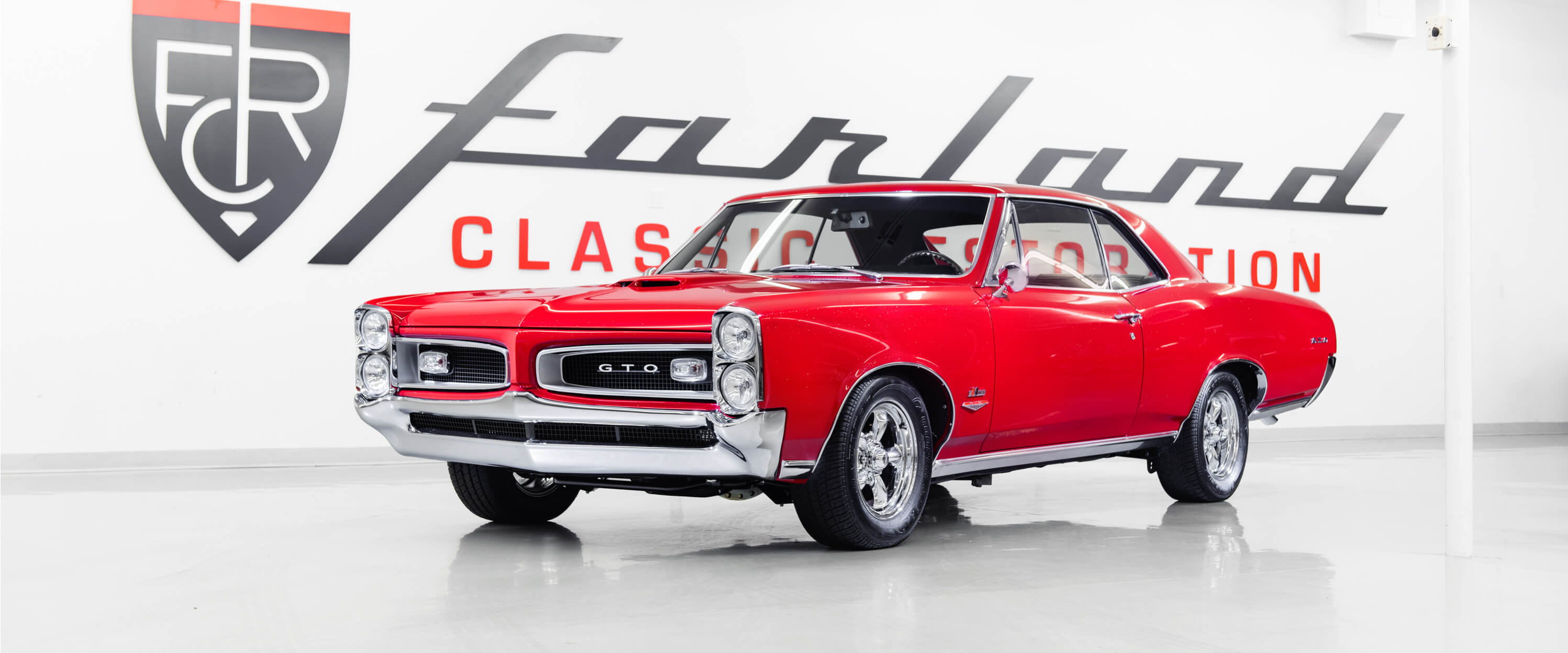 When this beauty rolled into our shop it showed some modifications including a custom engine. The more we began to build a relationship with this customer, we found that he had a dream in mind for his car. This idea, coupled with our skills, helped this customer feel confident that we could help him achieve his dream car. What started as a Farland Classic Restoration paint job, quickly spiraled into a world of customizing for this classic.

When everything was said and done, this GTO had custom touches through and through. Many of these touches were smaller, but add up to help make this classic one of our favorites. From a custom engine bay, new firewall, inner fenders, and radiator giving the engine bay a very clean look. Other smaller touches include the tucked bumpers, front and rear, as well as the hidden radio antenna to help smooth body lines.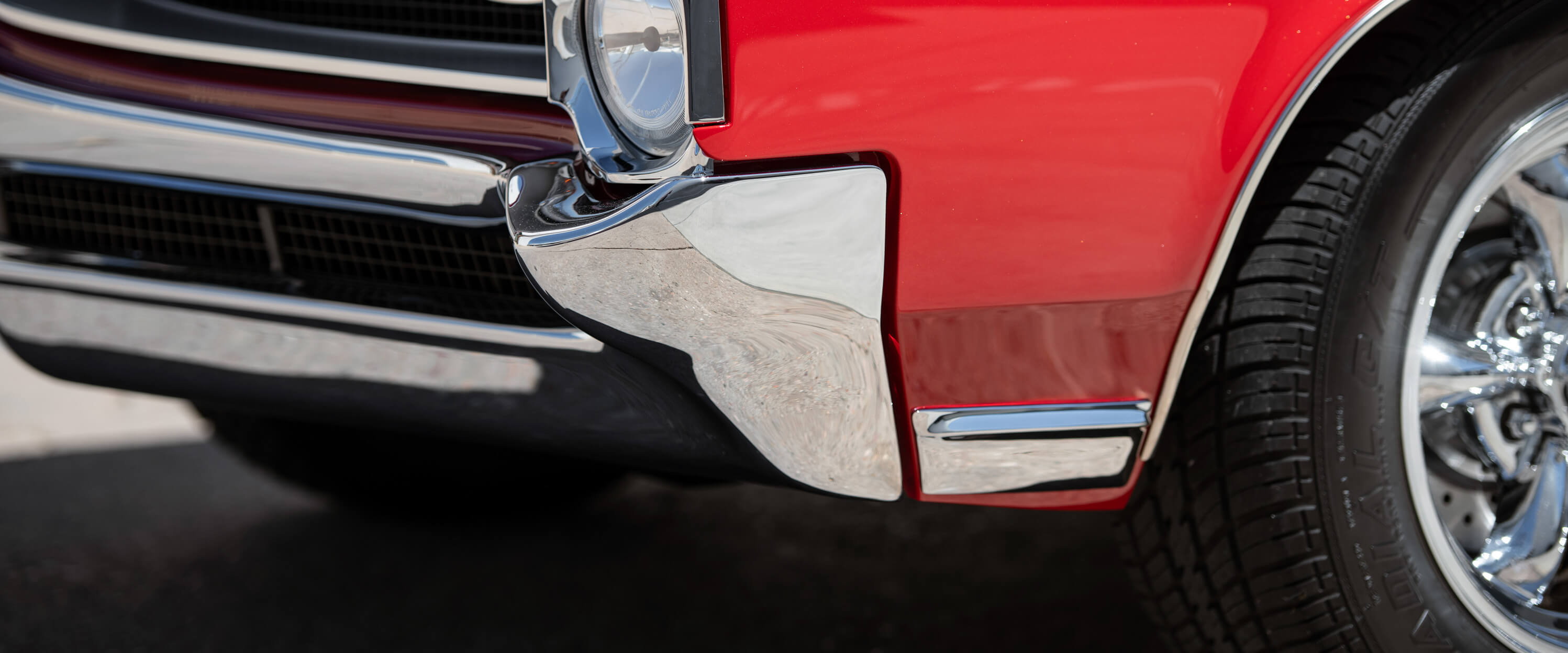 From many touches inside, we'll move to the most obvious outside, the gold-flaked custom red paint. While the car originally came in for a new coat of paint, no expense was spared to ensure this color is as custom as one could imagine. With TONS of gold-flake throughout the paintwork, this one cannot be missed.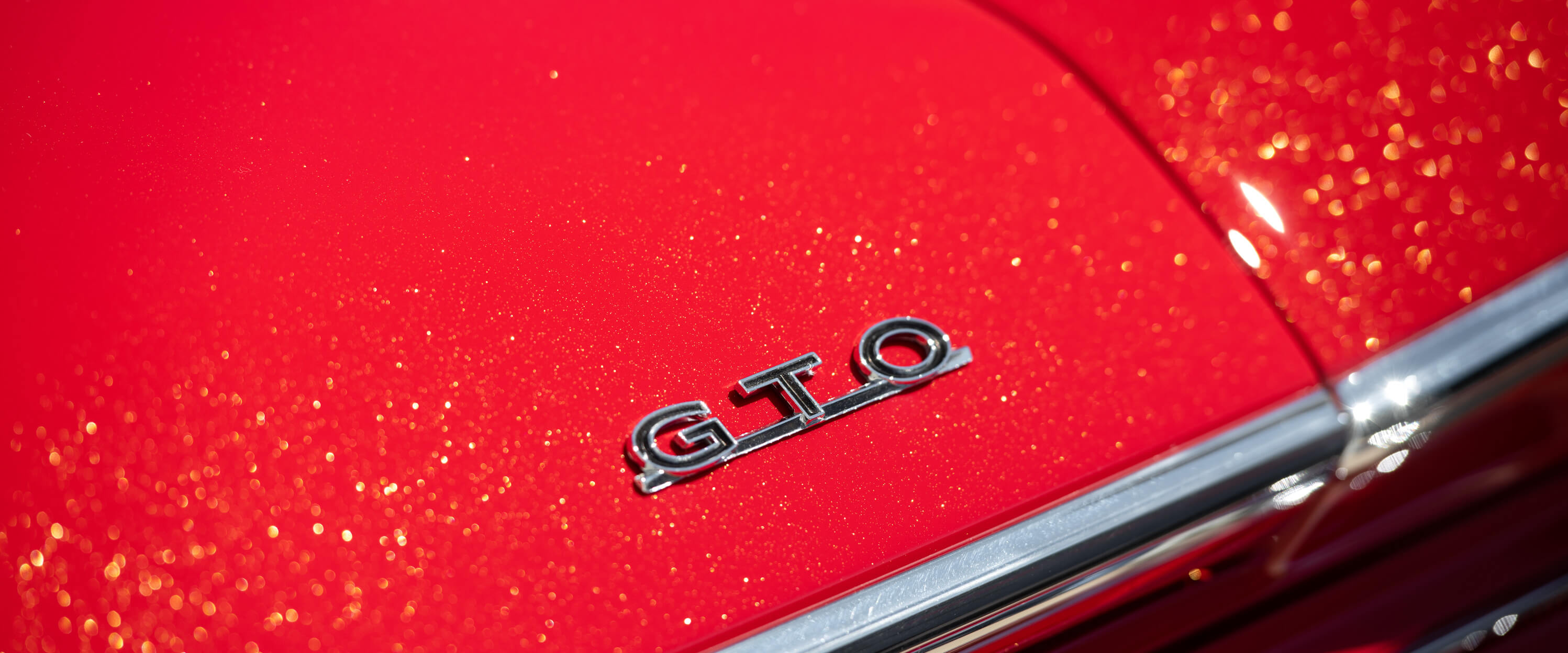 Once this goat left the shop it has become a well-appreciated car. The owner is happy to show it off at local events up near the Aspen, Colorado area. Most recently the car attended a new event called the "Jalopies and Joe Classic Car Show". This was the first time the event had been held, but our friend the GTO took the award for "Best In Show" at the event.
You can see more photos of the event here.

We always look forward to catching up with our Farland Classic Restorations, whether it's a three-year extensive nut and bolt restoration, or a custom classic like our friend the GTO, we always love our work being cared for and appreciated by those all over the world.
That will do it for today, thanks for stopping by and chatting about the goat with us. Be sure to head over to our Youtube Channel to see more of this golden classic. You can also always email info@farlandcars.com or give us a call at 303-761-1245. Thanks!