Restoration Differentiation
With the new year we've been busy updating all the classic Colorado car restorations moving through, today we'll highlight a few new cars here in the shop. While we always joke about the pairs of cars showing up this pair can help us to define some of the nuances that go into every restoration! Join us for the Restoration Differentiation!
Looking at two of the current projects here in the shop gives you some idea of what we're on about. One of these classics is the Red Mercedes-Benz 280SL, a driver-level Benz that has been well-appreciated by its owners. The other is the 250SL in Orient Red, a bit earlier model but the same W113 body style. The 250SL is a more original example, while the 280SL shows some signs of previous work. Documenting and comparing these two Benz' can help us highlight the mastery that goes into every hour of work here at Farland Classic Restoration.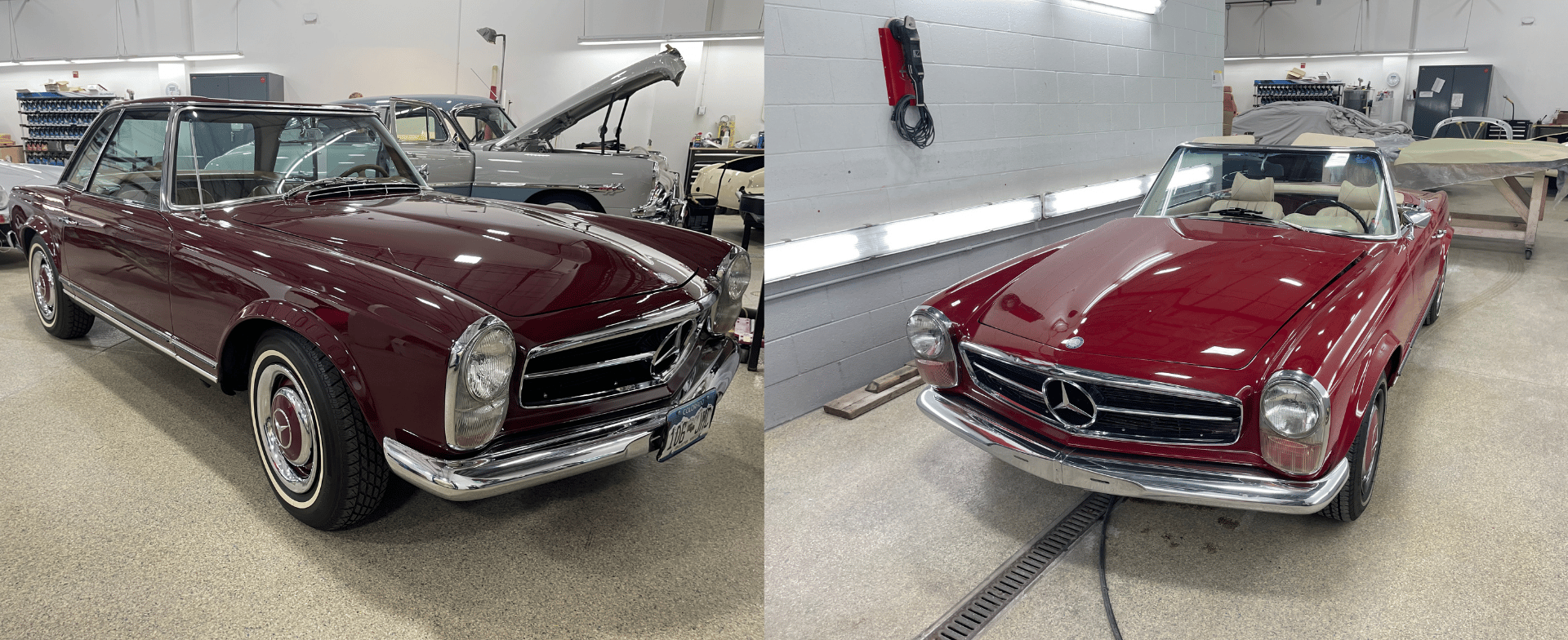 We'll start with the earlier 250SL, on the left. This example is one of the best W113s we've seen here in our shop. The current owners have owned the car since 1969 and babied the car throughout much of its life. This one came in for some brake work. This 250SL is a time capsule of sorts, allowing our younger staff to get a better idea of what an original W113 looks like while also ensuring this classic is properly attended to. Staff members like Jack and Bill can immediately identify originality thanks to notches and rivets thanks to their years of knowledge, but for staff like Pat, it's a chance to solidify his knowledge and engrain in him things like upholstery options, color codes, VIN tag locations, and more.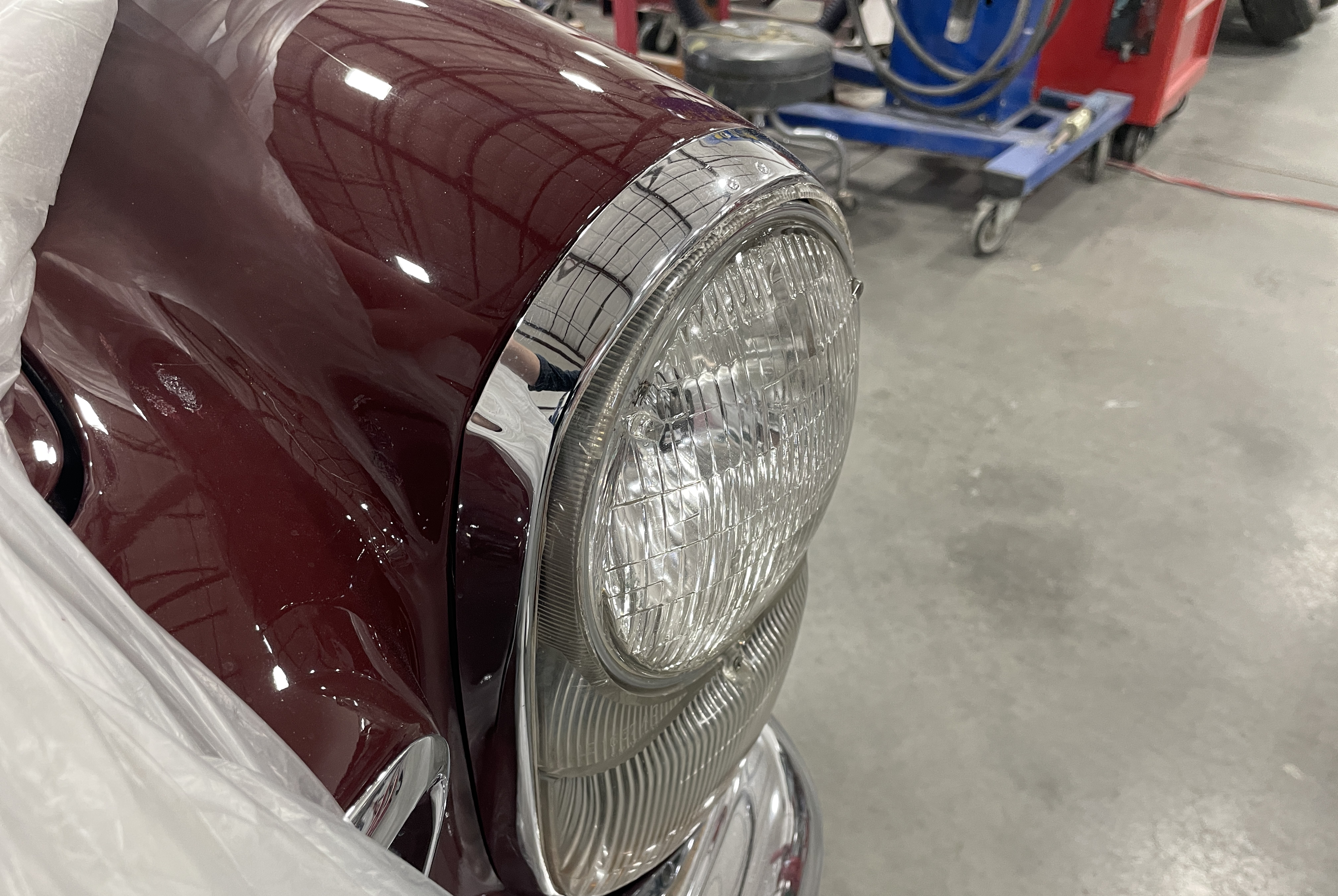 Above you can see the "notched" headlight on the left side just below Pat's reflection. This notch is easier to see on the chrome trim. That bodyline flows into the Orient Red and is often lost in restoring these classics.
Having a certified original only helps with this mastery. While this Concours example is in great condition it helps to bring that same methodology to every example we see.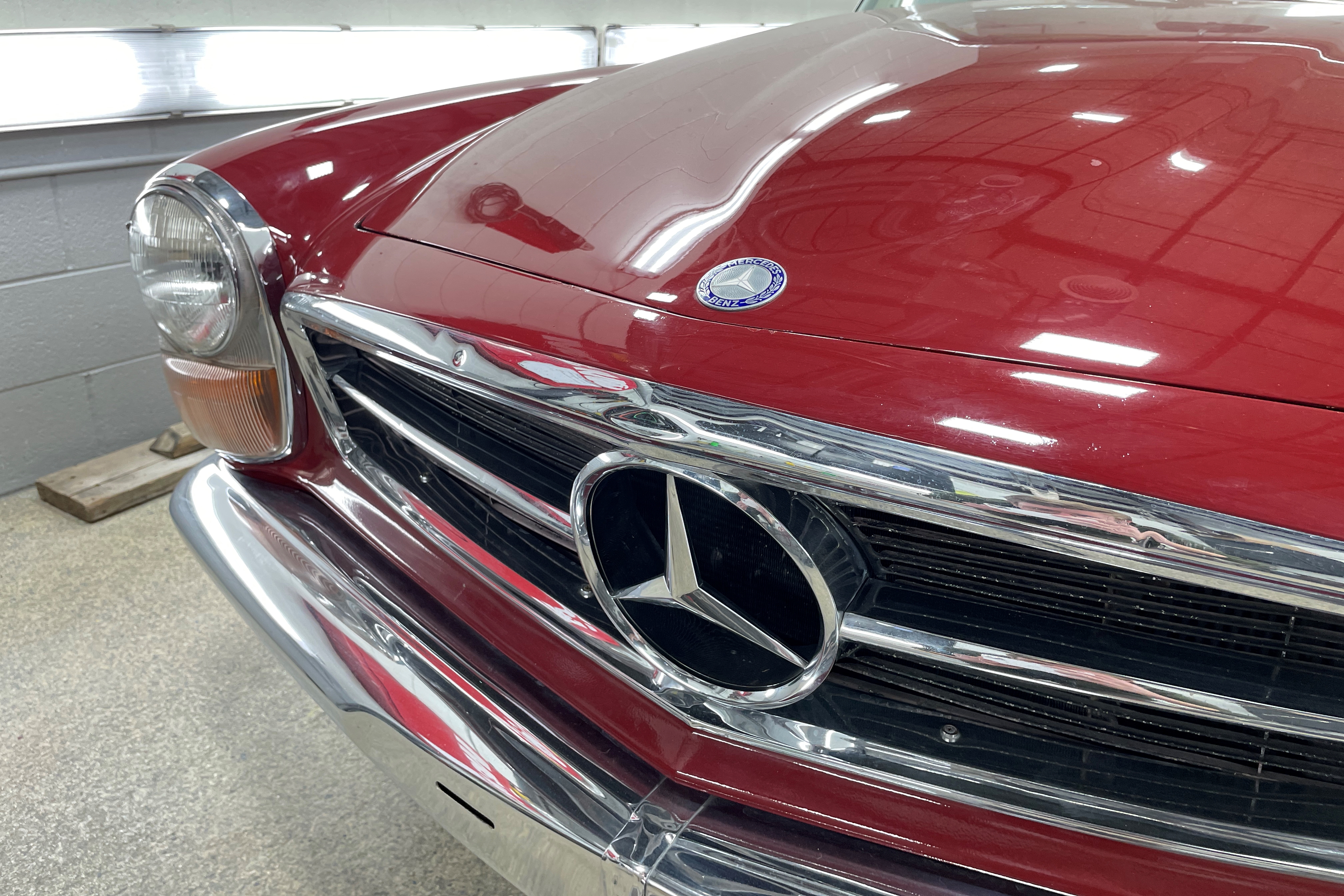 Moving our focus towards the 280SL in red, this car shows more signs of being a "driver" level car. The W113 has a few signs of previous work, including the missing "notches" around the headlights, a key tell of originality. With that being said, these notches make no difference when you're behind the wheel. It's this nuance and understanding of what you're looking for out of your restoration that helps us define the levels of restoration and give owners more options for their classic.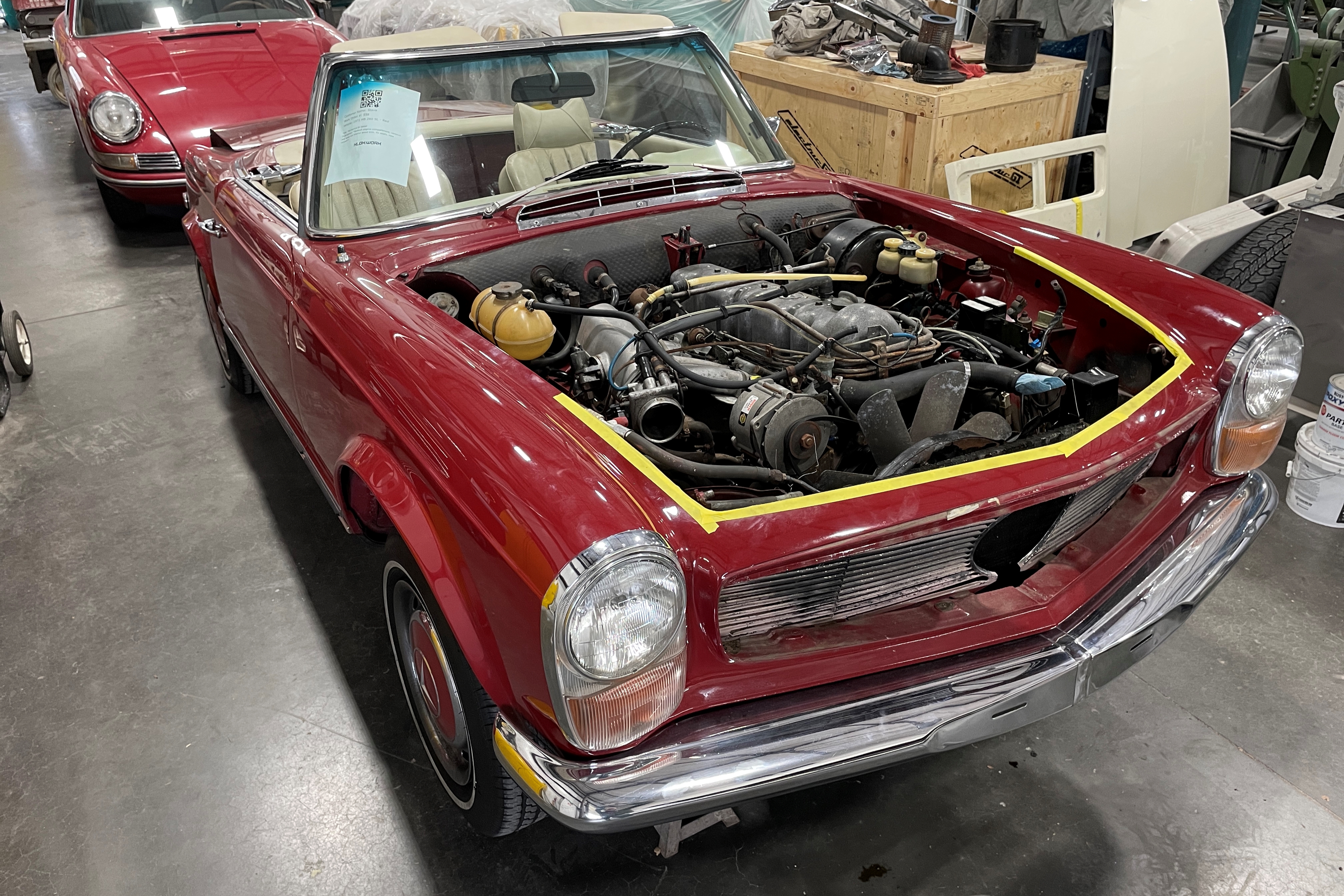 This 280SL is in for an engine bay restoration as the owners begin to consider what they want out of their classic restoration. These owners were initially in for detailing, but also mentioned the thought of restoration. We took this chance to introduce the idea of an engine bay restoration, allowing us to clean up the underside of this car and take the first steps towards restoring, while still keeping the work limited to allow these owners to drive their car over the next few months. They agreed and that has allowed us to get a truly deep clean on this classic. Once we're finished with the bay, this allows the owners the chance to use the car a bit more before they decide if the nut-and-bolt restoration is the next step.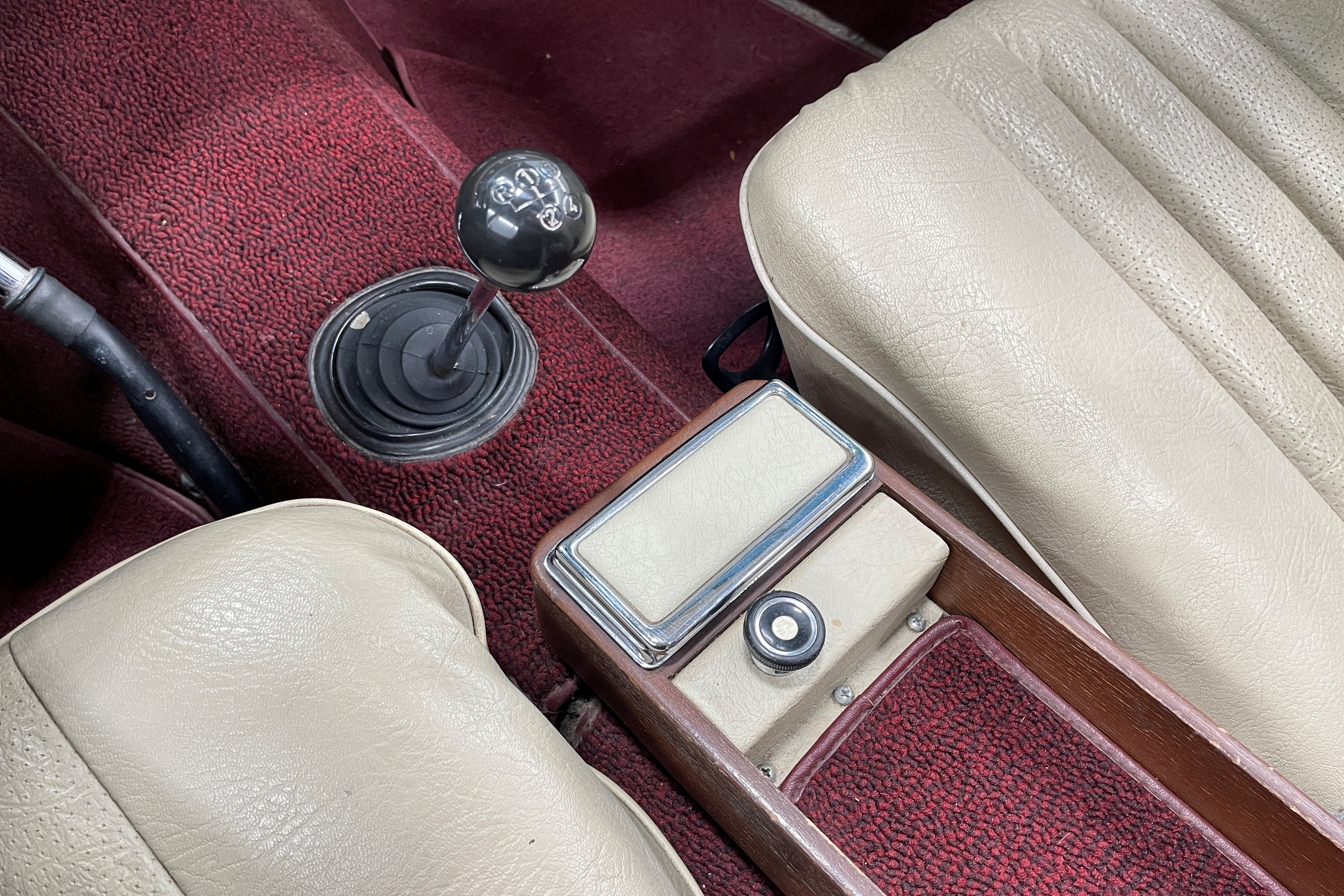 The manual four-speed is somewhat rare option in this 280SL.
Maybe you want to win the Platinum award at the next Concours show, we have the knowledge and ability to help you see your restoration through. Maybe you're just looking for something to be driven on the weekends, something to play your tunes while you feel the breeze in your hair. We can do that too. We're here to help you find your classic and ensure it fits your needs.
If you haven't had your fill of Mercedes-Benz history, go check out this recent blog. Otherwise, give us a call at 303-761-1245 or send an email to info@farlandcars.com to learn more!
Thanks for stopping by!