Fully Charged 2022! - Electric Convention
Things are always moving quickly here at Farland. Lately, our mechanical team has been busy finishing our extensive restorations on the Ferrari 365 GTB/4 'Daytona' to the 1955 Mercedes Benz 190SL. Our detailing team has been at work on the incredibly rare 1974 Porsche 911 Carrera RS 3.0. Meanwhile, the marketing and sales crew has been just as busy preparing for a few upcoming automotive events.
Now we've sent shop owner Jack Farland and our electric Porsche to the Fully Charged electric show in San Deigo, California, which will be happening this weekend. We'll send a few more team members to the show in the coming days. Join us as we cover the Farland Fun at Fully Charged 2022!
The Fully Charged Electric show is one of the biggest gatherings of electric businesses covering everything from micro-mobility to commercial vehicles, sports cars, public transport, airplanes, and everything in between. They typically host one show per year here in North America. We sent a few team members out to the show at Circuit of the Americas down in Texas back in 2020, where Jack and Tom first got their taste for electrics and put down their reservation on our Rivian R1T. Since then, our love of electrics has grown immensely. More recently, we checked out the local electric conference known as State of Charge 2022! Learn more about that here. That said, we haven't forgotten our classic heritage and recently made our way out to the Morgan Adams Concours.
Of course, this weekend, we've sent Jack to one of the largest electric conferences in the United States at Fully Charged 2022. This event will bring thousands of electric enthusiasts to the San Diego Convention Center to chat about everything from micromobility and electric bikes to potential uses in flight, fleet transport, and powering your home. Tessa and Pat will be headed to San Diego later this afternoon to meet him and help with our electric Porsche. If you're out at the event this weekend, stop by our booth and learn more about the electric / Concours future! We'll be happy to chat classics, the electric future, hybrids, and everything in between. You can also keep an eye out on our socials as Pat will be doing his best to highlight all the fun going on around the show and conference. Below you can see our crew with our electric powerplants here in house, the Electric Porsche 912 and our Rivian R1T.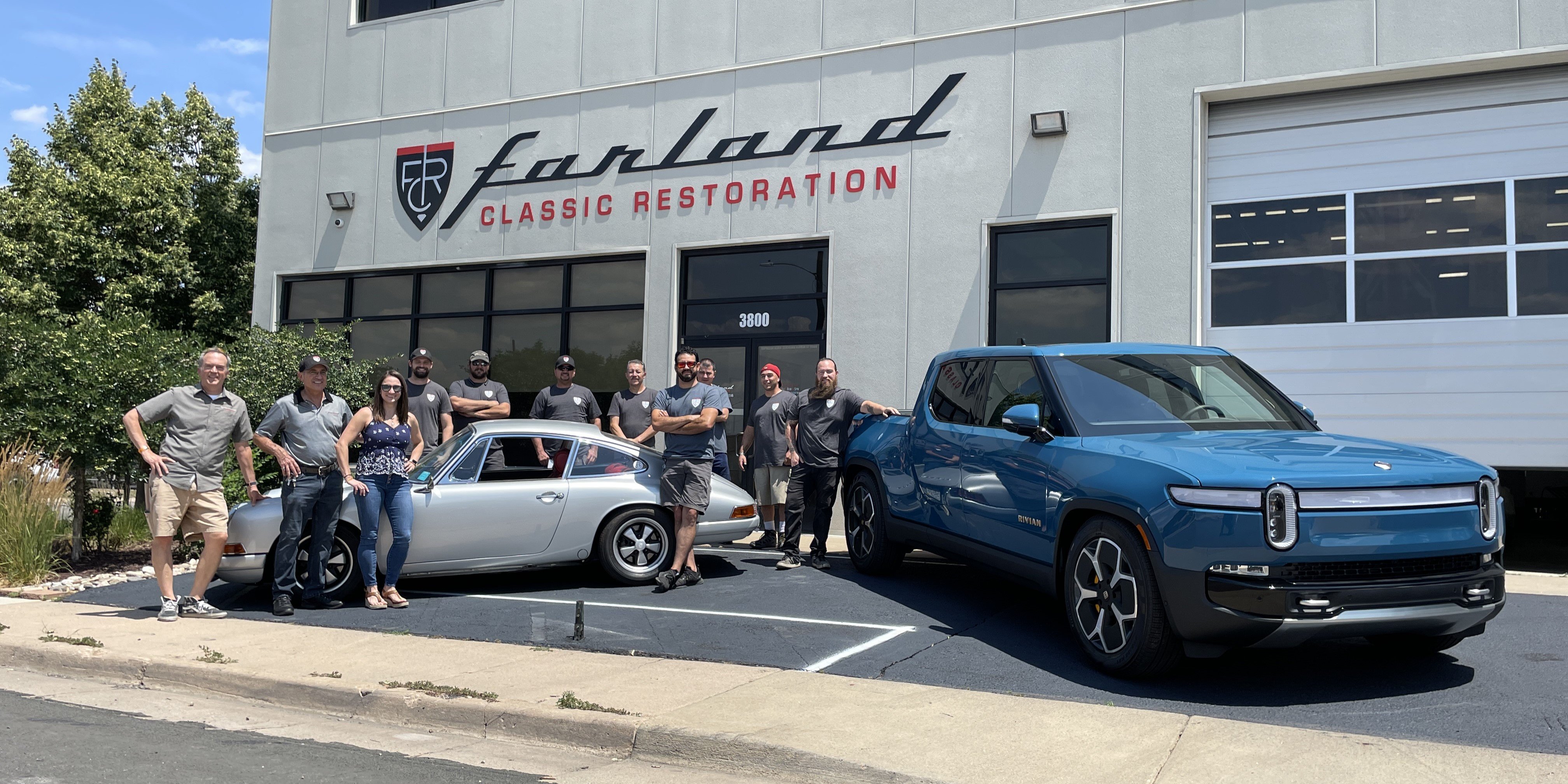 Of course, if you have an electric restoration of your own or a stalled classic, call us at 303-761-1245 where we're happy to chat with you about your restoration and what you're looking for from our Farland process! We hope to meet many new electric fans out at Fully Charged 2022, but if you're looking for a bit of fun to help you hold over, check out this recent post about State of Charge 2022 here in Denver. Thanks for stopping by!