1955 Chevrolet 'Harvest Gold' Corvette - Restoration Update
While American classic cars aren't typically our specialty, sometimes a restoration comes through that we just couldn't pass up. This 1955 Chevrolet Corvette nut and bolt, bone stock restoration was one we felt could benefit from the Farland touch. As usual we'll start with a bit of backstory:
In 1953, Chevy released the Corvette to underwhelming acclaim. Over the next three years production numbers would continue to drop, with only 700 models being produced in 1955. While Ford's Thunderbird was full of personality, Chevy felt the Corvette could represent the utmost power American engineering could offer.
There had been talks in early 1954 to end the production of the Corvette but Ford's Thunderbird brought clarity to GM designers. For the 1955 model year, Chevrolet would add the "Heart and Soul" the model desperately needed with the introduction of the 265 cubic-inch V8 engine.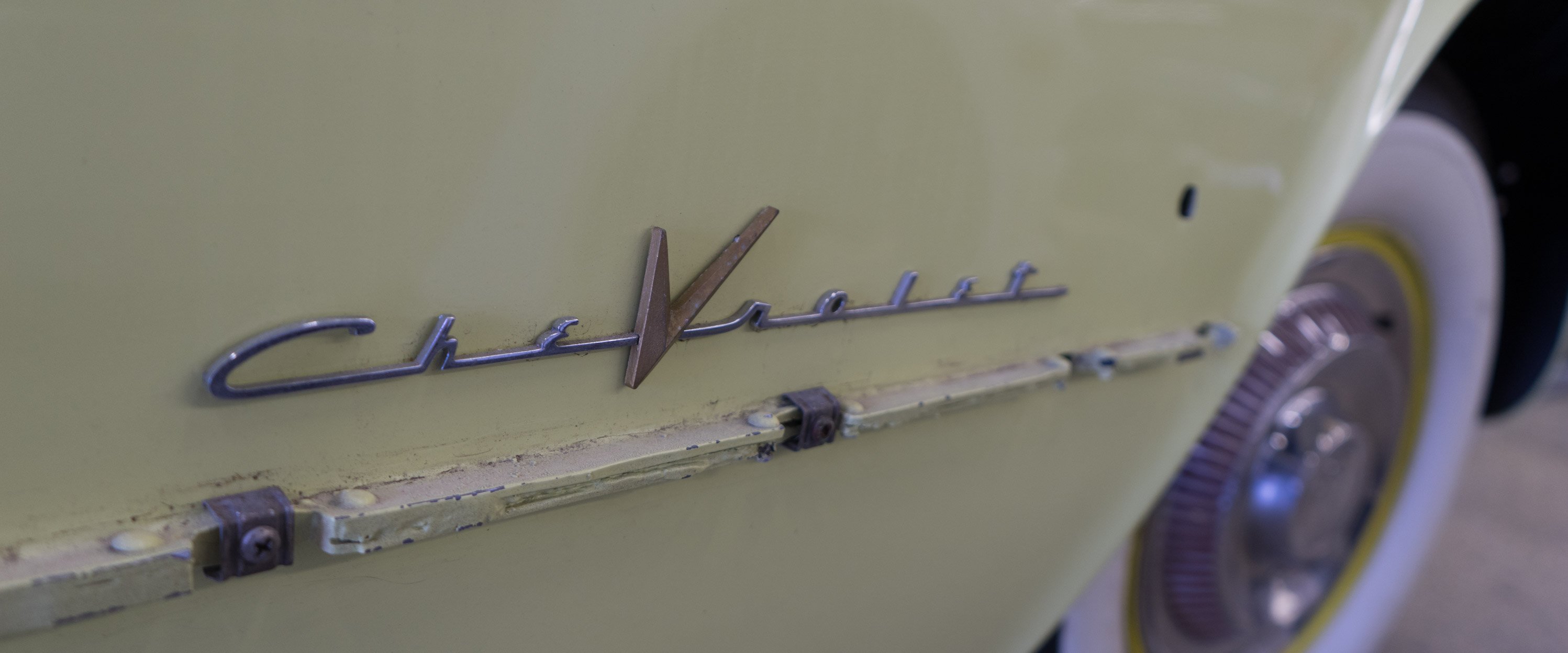 Of course, that leads us to this fine fiberglass model. This is a 1955 Harvest Gold Corvette, one of only around 120 produced in this color during the '55 model year. This was the last year of the original C1 body style. In 1956 Chevy would restyle the body to include roll up windows and a more standardized convertible top.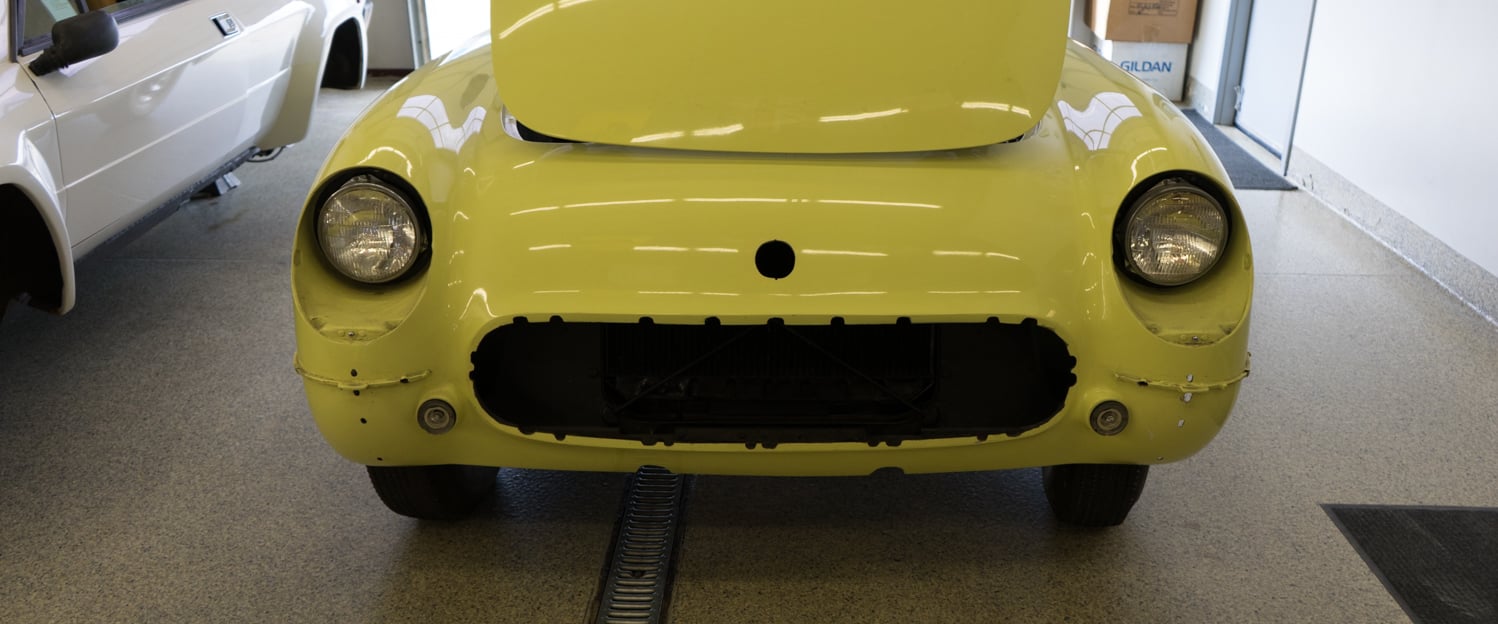 This particular model came to us as many Farland Classic Restorations do, in a driving and running condition. We jumped to work on disassembly and labeling, from there the car went in for fiberglass work. This included working on the front end of the car and correcting some previous repairs. One of these issues was incorrect rivets used throughout the front end. As is the Farland standard, we went back through and replaced the rivets with factory correct versions.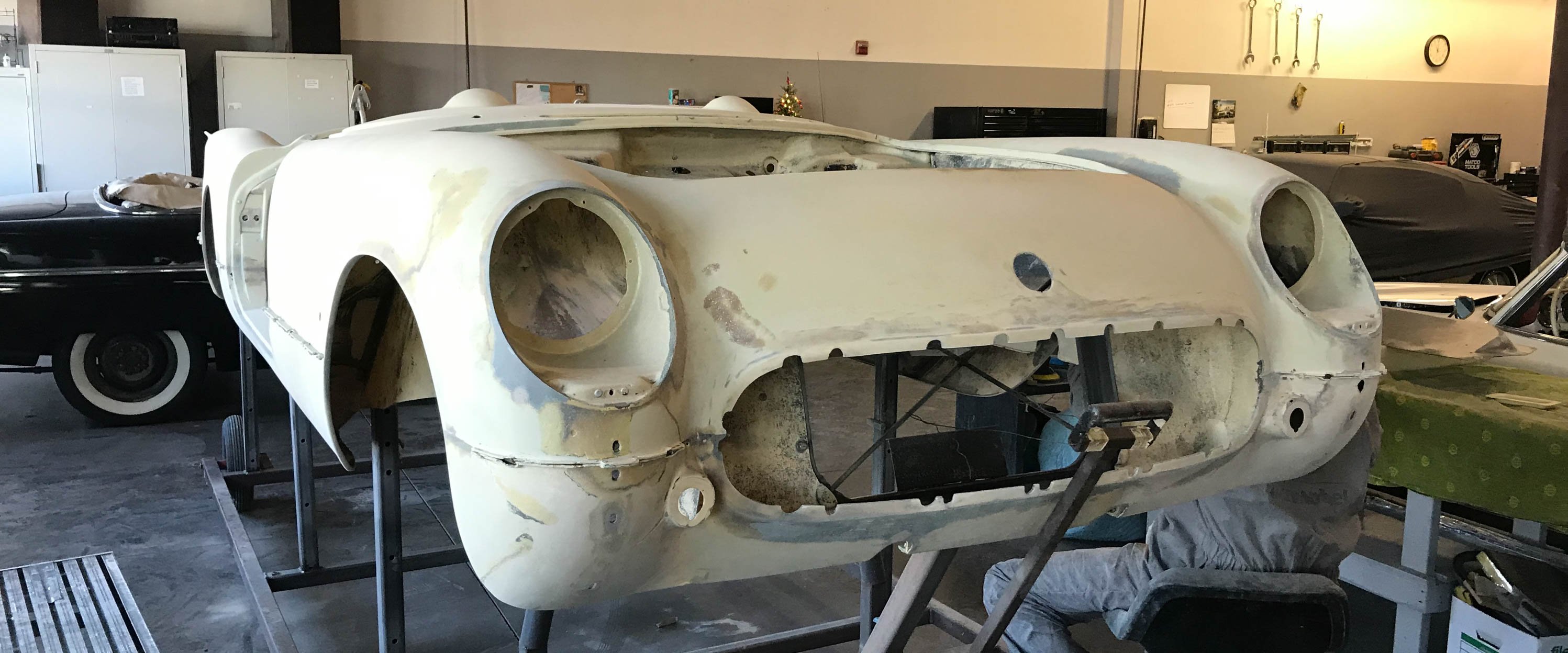 The car then went into primer and a visit to our paint booth where Mike worked tirelessly to ensure this Harvest Gold didn't end up Harvest Yellow, or Gardening Green. Now this American Icon has moved into a bay for assembly.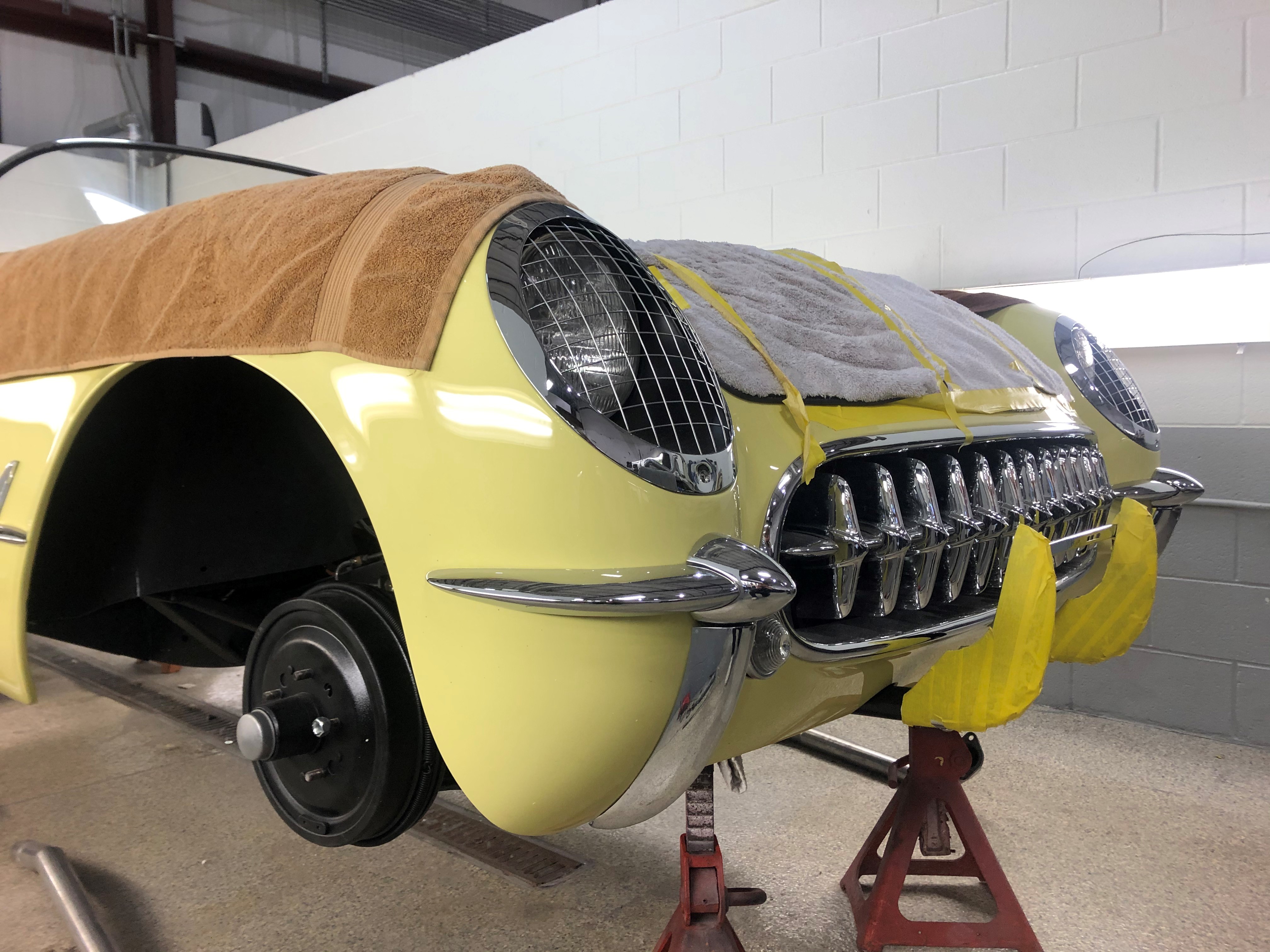 Our technician Keith is a master of the Corvette and has done many restorations on them throughout the years. He has been methodically adding the parts back onto the car including the rear clamshell, windshield, the Woodland Green carpeting and some interior work. The Woodland Green interior isn't something you'd see on a modern Corvette, but it looks fantastic against the Harvest Yellow paint.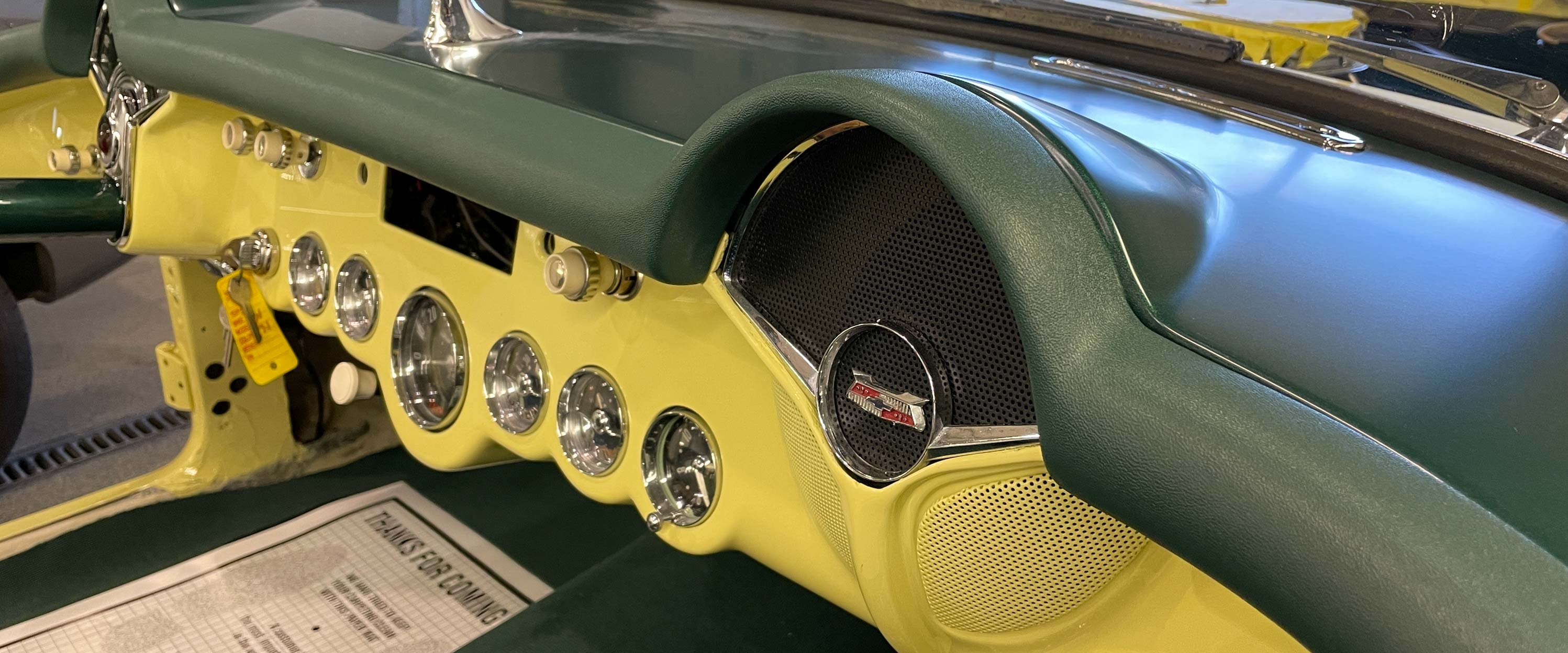 Now Keith is focused on getting this icon buttoned up and ready for more V8 adventures! But we're all wrapped up for today. If you'd like to see more Corvette action here at Farland, let our owner Jack take you for a spin in another one of our recent projects, a fuel-injected 427 Corvette from 1966! Click Here!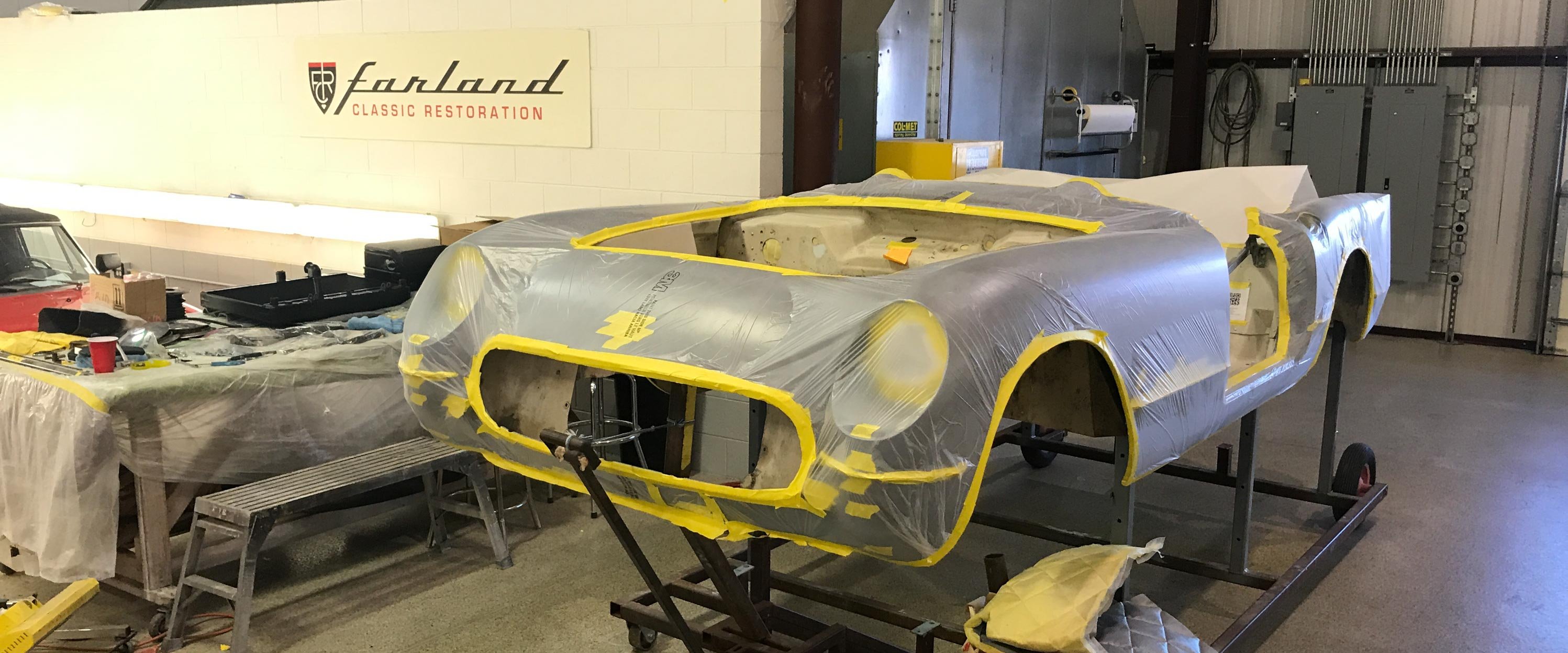 As always, if you'd like to check out more of our Farland Classic Restorations be sure to visit our Website, Youtube, Facebook, and Instagram! And if you'd like to talk to owner Jack Farland about a project, email him here.