Ferrari built their first flat twelve-cylinder engine (actually considered a 180-degree V-12) for the 1964 Formula One season. This creation was a 1.5 liter four-cam Grand Prix unit that enjoyed great Formula 1 success with increasing displacement all the way through 1979.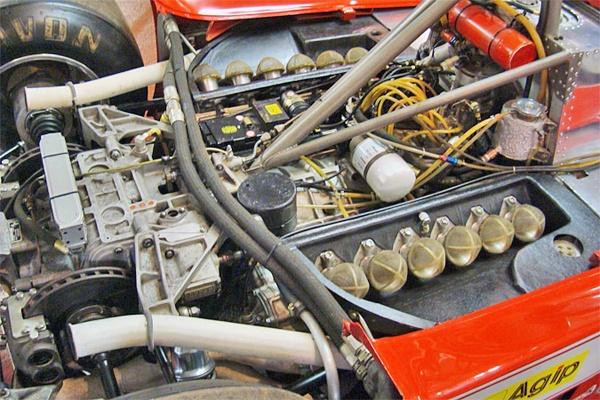 Because of its extensive racing development, the engine design was determined to be an excellent choice for an all-new ultra-sophisticated and technologically advanced sports car being planned in Maranello in the late 1960s. For Ferrari, it was also considered a necessary answer to Lamborghini's radical mid-engine entry, the Muira,
The new Ferrari was released in 1971, called the 365BB; '365' traditionally indentifying the individual cylinder displacement (times 12), or 4.4 liters. BB stood for "Berlinetta Boxer," Ferrari's usual name for a coupe and 'Boxer' being a European nickname for an engine with horizontally-opposed cylinders—the action of the pistons being likened to a boxer's punching! It was the first mid-engine Ferrari road car and was an instant hit, with its shattering performance, revolutionary handling and wonderful new pininfarina body design.
Following Ferrari's practice of ongoing development, the 365BB was followed in 1976 by an upgraded model, now called the 512BB, (decoded as a 5-liter 12-cylinder) There were many subtle improvements, both mechanically and stylistically, but the car lost its unique signature six tailpipes for traditional four outlets and its utterly uncompromising personality.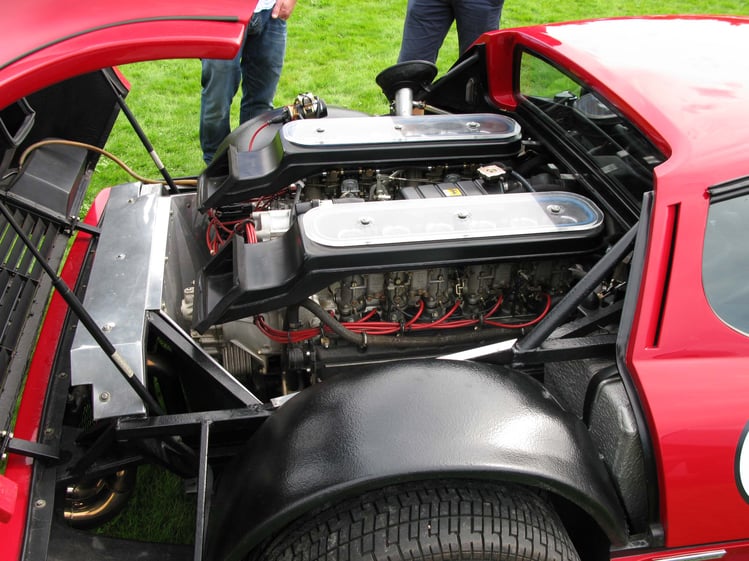 In 1981 the bank of triple-throat Weber carburetors was replaced with new Bosch fuel injection and the car's designation became 512BBi, the lower-case i indicating iniezione. This was done largely to begin addressing looming emission requirements (even though none of these cars—the 365BB, 512BB or the 512BBi—were ever certified for sale in the US). It was clear to the engineers, if not the ferraristi, that carburetors were on the way out. The BBi was a wonderful car with ferocious performance, but was also a bit tricky to handle. Top-tier tires of the day—Michelin TRX—however innovative, weren't sticky enough to handle the fierce power and chassis' potential. The cars were, shall we say, manly. They were demanding to drive and lacked amenities like effective air conditioning, but Ferrari had no trouble selling every one of them.
The last BBi was completed in 1984 while the engineers were hard at work designing a suitable replacement flagship. Important criteria included world-class performance, but also creature comforts, innovative styling and US certification. By the early 1980s, prototypes of the new car that would be called "Testarossa" were on the Fiorano test track. The name was homage to the world-championship 250 Testa Rossa models of the late '50s and early '60s. (note, the early name was two words, but the new name was one—Testarossa!)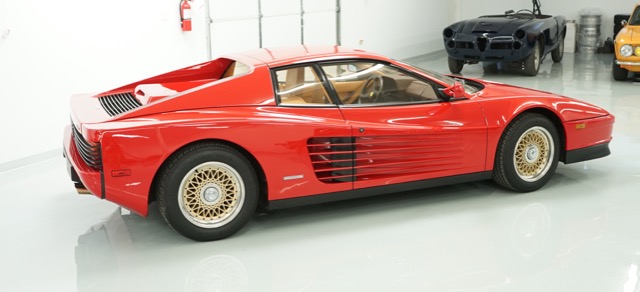 Introduced in late 1984, the new car was spectacular! Further refinement of the four-cam, four-valve engine delivered 390 manageable horsepower. The exterior styling was immediately unique and exciting—side strakes were not a styling gimmick, but were aerodynamically designed to feed cooling air to the twin radiators. The new horizontal-line design theme beautifully enveloped the mass of a four-foot wide engine that had to fit between suspension uprights and twin side-mounted radiators. Inside, all surfaces were covered with fine Connolly leather, including the seats, doorsills, dash and even the headliner.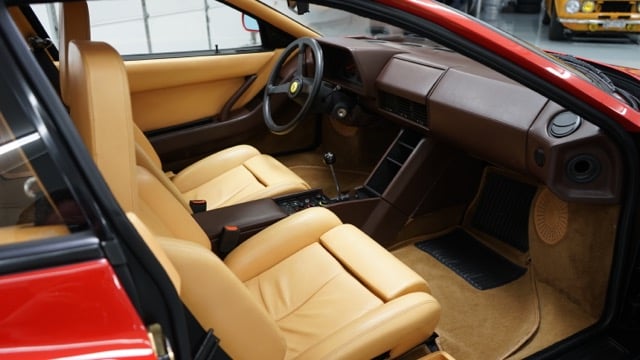 The integrated air conditioning system was quite effective and the car truly had the ambiance of luxury and refinement. Performance met all expectations and affluent enthusiasts placed immediate orders and it became one of Ferrari's highest-production models. Ironically, one of the car's signature styling icons was a single high-mounted mirror on the driver's side that owners quickly discovered was woefully inadequate to guide reversing actions. Soon, production was modified to incorporate more conventionally-placed twin mirrors and far fewer off-side rear quarter panels were damaged! The Testarossa was a popular mainstay in Ferrari's lineup through 1991, when a yet further-refined model debuted, called the 512TR.
The new 512 carried updated styling cues, especially in the nose, new 18" wheels to accommodate modern tires and even more horsepower. This model continued in production through 1994, but looming (again) federal regulations were going to be very difficult to meet with the existing platform, which could not accommodate airbags and new crash standards. The last of the glorious flat-twelve cars was called the 512M, for Modificati, and was only built for the 1995 model year. It carried restyled, more Ferrari-traditional head and tail lamps, modular wheels and pioneered a new technological development, titanium connecting rods, which have been in every Ferrari since. As the few 512Ms were being sold, the new 456GT was introduced that year, a 2+2 with a front-mounted 60-degree V12 engine—the precursor to a whole new reign of Ferrari V12 supercars—and the flat-twelve era was over.
Today, the early 365 and 512BB cars are highly sought-after icons, commanding strong six-figure prices. The 512TRs and few 512Ms each have their following and are also quite valuable cars. The Testarossa, however, because of the masterful job Ferrari's engineers did to make a world-class drivable sports car, was hugely popular and sold in much larger numbers than any of its forebears or antecedents and has consequently remained relatively affordable to enthusiasts. Even though experiencing appreciation, excellent examples can still be found well under $200K…for now.
(Our Ferrari Expert Bill Orth penned this article. If you'd like to talk to him, give us a call at 720-588-8427.)
Keep up with our stories, by signing up for our newsletter below.