Jaguar XKE Jamboree
Here at Farland Classic Restoration the joke is always "They show up in pairs". This time around we have a couple cool cats into the showroom for consignment and one just stopping by. These three are all great examples of the Jaguar XKE or E-type, famously called "the most beautiful car in the world" by Enzo Ferrari. We figure he wasn't counting his "race cars".
Either way, let's dig into these cool cats!
These three all rolled in right around the same time, the first to arrive was the XKE 2+2 Series 1.5 which came in for some extensive detailing. This car has been well appreciated by its current owner over the past 30 years! When it first came in there were signs of sun-faded paint and plenty of areas on the outside of the car we could address. We also did a few little touches to the interior as well. As our team started to get into the detailing, we noted that the paint had plenty of scratching and swirl marks over the past 30 years of hand-drying. Our fantastic detailer really pulled out all the stops to get this classic cat shining once again, by the time the owner came to pick it up it was hardly recognizable! Just look at the smile as he took off!
For many enthusiasts, the 2+2 longer wheelbase design isn't as sought after as the earlier cars. We've covered that legacy over in this blog post. The earlier Series 1 cars with the smaller 3.8L engine are desirable for a variety of reasons. The OTS style, over in the showroom in wearing its original green coat shows some great options available for early E-type owners including the unique seats and the glass-covered headlights! If you'd like to learn more about that car, you can find our sales listing here.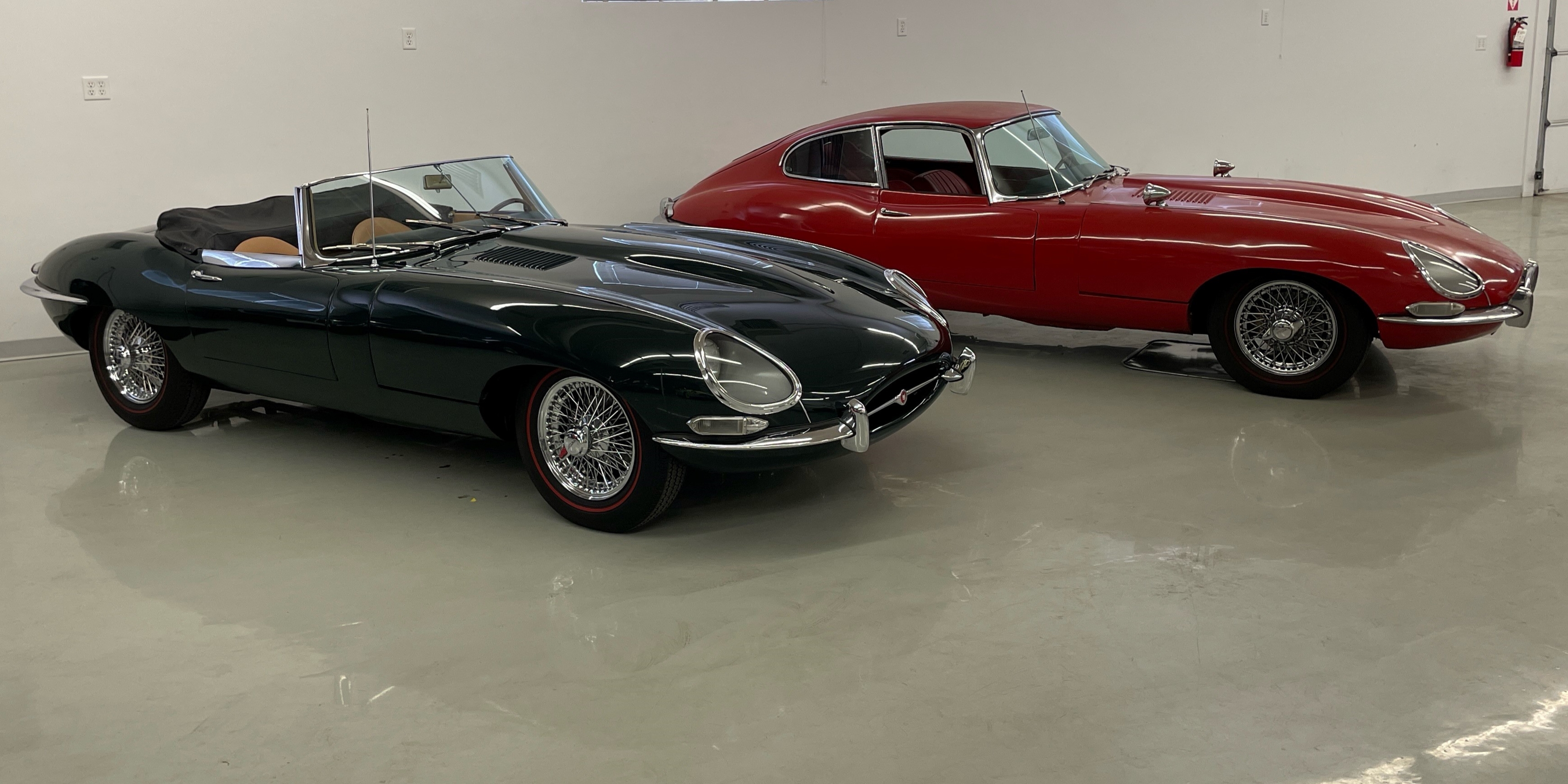 While all Series 1 cars are desirable, we find that the coupes are the most in demand. Bill often jokes "If we could copy and paste any car, it would be a series 1 E-type coupe." We find these cars have an incredibly loyal following and many owners are working to restore these cats to the original factory standard! This 1967 Series 1 Coupe that recently rolled into the showroom is a great example of that, our team actually redid the interior of this example just a few years ago. At the time we were able to order an entire pre-cut kit to ensure everything fit just right in this E-type. Even today the interior still looks fantastic against the matching red exterior. Keep an eye out for that one heading to the site.
That's about enough cat-chat for today. We have started livestreaming twice each week if you want to get some more eyes on these classics. You can find links to all our livestreams over in this blog, or checkout the most recent video down below! If you have a classic looking for the Farland touch, a forgotten relic or even something a bit odd like our bumper car, give us a call at 303-761-1245. Thanks for stopping by!