2016 was the quarter-century mark for the prestigious Palm Beach Ferrari event called Cavallino. Hosted and organized by the publishers of Cavallino magazine, John and Alicia Barnes, the Ferrari-only extravaganza celebrates the finest of Enzo's masterpieces. Primary focus is on exquisitely restored vintage road and race cars from the '50s & '60s—an era considered by many to be Ferrari's "Golden Age".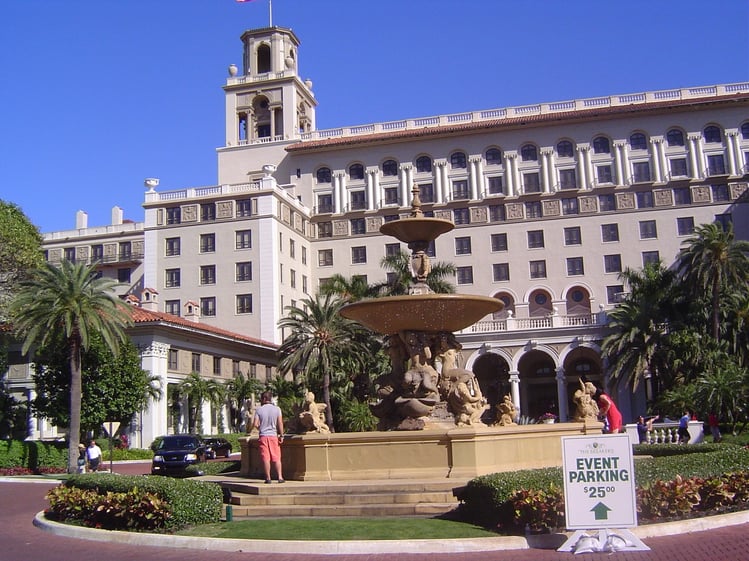 Held at the imposing Breakers Resort, right on the ocean, the venue is as special as the automobiles being celebrated. The Breakers is a legacy of another golden age, that of the wealthy and powerful industrial barons who 'wintered' in Palm Beach's elegance and warmth, away from the cold and grit of their Northeastern industrial holdings. Constructed in 1925 of Florida limestone by tycoon Henry Flagler, the Breakers is an imposing multi-story hotel reminiscent of elegant European chateaux.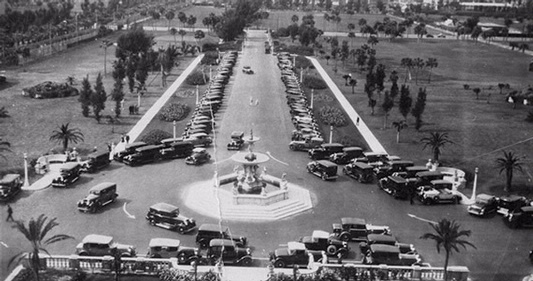 The main lobby has arched ceilings over thirty feet high, frescoed with landscapes, nymphs and courtesans in the classical style. Giant chandeliers hang from iron chains accenting walls of dark oak paneling and luxurious overstuffed furniture. It's quite a place, with small rooms in the $700 range and the popular suites around $1700. Per night. But let's talk about the cars:
Immediately outside the hotel's southern porticoes is a closely-manicured green called the Croquet Lawn. This is surrounded by lush tropical plants and tall palm trees and is large enough to hold about twenty of the finest vintage Ferraris in the world in spacious grandeur.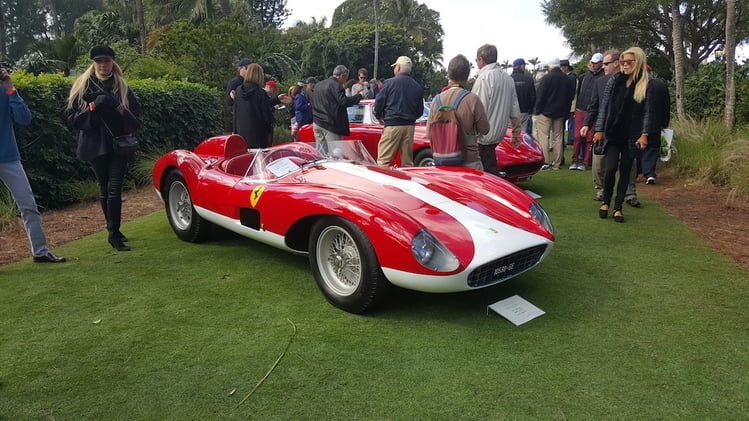 These are cars that were invited to the show, and have in most cases made print in enthusiast publications for their recently-completed half-million-dollar restorations. Every car on that grass has two commas in its value. However, some might say that one particular car was a thorn among these beautiful roses: a completely unrestored—in fact, quite rough—1961 250 California short wheelbase cabriolet, recently exhumed from a 30-year 'storage' in an open French shed…but had achieved $18,700,000, and instant stardom, at a Paris auction last year!
Stepping down from this hallowed ground, you arrive at the top of a golf course tee area upon which are arranged another dozen or so very special 1960s Ferrari road cars, each a Platinum -winning concours veteran.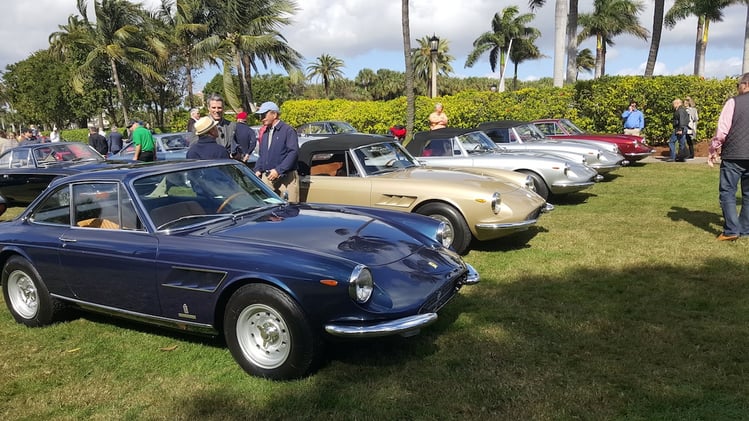 Another several steps take you down onto a lower lawn and more fabulous cars. Beyond this point, stretching out for a hundred yards are carefully-arranged phalanxes of yet more Ferraris, although these will be 1970s-era, the Dinos, Daytonas and the early 8-cylinder cars. As you stroll along the grass, row upon row of seemingly-perfect Ferraris in gradually newer age groups lie glittering in the sun.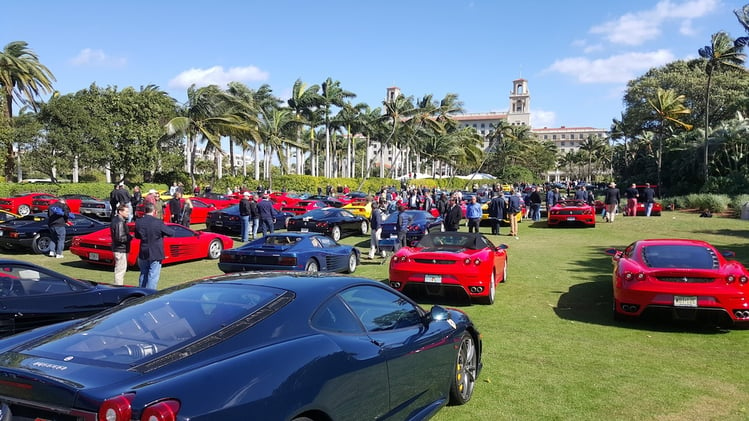 'Perfect,' however is not exactly true, as teams of blazer-clad judges are carefully inspecting each group of cars to see how close to that ideal each has been prepared. The judging standards are set down by the IAC/PFA (International Advisory Council for the Preservation of the Ferrari Automobile) and are applied in nearly all top-level Ferrari concours events. This provides consistency, minimizes subjectivity and gives each entrant's car a universally-recognized credential. The goal is a Platino (Platinum) score, which in previous years has been 95 points or greater, but because so many cars have been reaching that level (!), the cutoff is now 97 points. Meaning that out of a 'perfect' 100 points, the judges can only find three points worth of demerits on your car before you are cast out of the prestigious Platino echelon with perhaps 'only' a 96-point score. (In fact, though, each tiny imperfection doesn't count as one point. In a judged category, Engine & Chassis, for example, there may be several small incorrect items found, which might result in an aggregate single point deduction)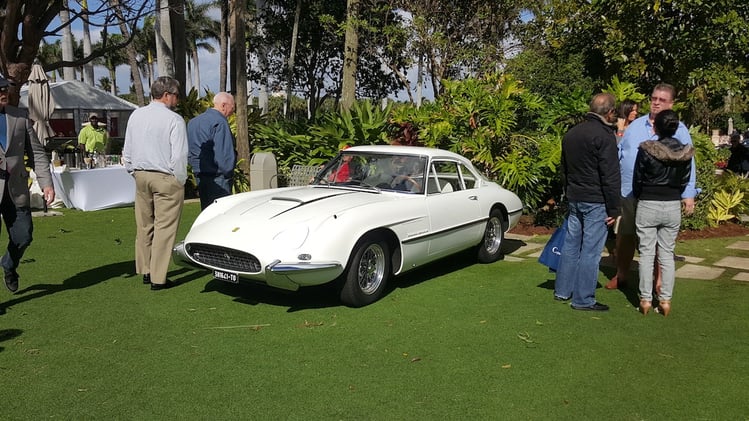 This spectacular array of Ferrari's finest will have come to Palm Beach from all across the country, and in some instances from around the world—such is the prestige associated with your car winning a top award at Cavallino. Because, even with the considerable restoration effort to win a Platinum, it is common for several cars in each class to do so! So there are several 'Special Awards,' which bestow even greater honor on the entrants who win, for example: Finest 12-Cylinder Car, or Finest Competition car. These ultimate awards are carefully chosen by the Chief Judges during an afternoon-long closed-door session to sort out the very best from a field of exceptional cars. The absolute pinnacle achievement is the Best of Show awards—one each for a competition car and road car. A Ferrari that achieves this 'coronation' can be likened to the winner of the Kentucky Derby and will thereafter always be known as a Cavallino Best of Show winner, which adds considerably to its value. (Our friend, Stephen Bell from Classic Investments, just down the street, entered his amazingly original and unrestored 365GT 2+2 #12957 and won the Vintage Car Preservation special award). There are other events going on as part of the Cavallino weekend, including heavily-attended track days for Ferrarsti who are more interested in enjoying their—often multi-million-dollar—cars dynamically. There are special receptions displaying private jets and luxurious yachts elsewhere around Palm Beach, but the event everyone really comes for is the Ferrari concours on the greens at the Breakers.
Farland Classic Restoration has been proudly represented at Cavallino several times in recent years, with Jack Farland presenting a different freshly-restored Ferrari entry—each of which has scored Platinum, by the way. Our General Sales Manager, Bill Orth, has a deep Ferrari background and has participated as a Senior IAC/PFA judge at Cavallino for years (No, he didn't judge Jack's cars.)
Written by Bill Orth